Ian Martindale
I am a freelance photographer and cameraman, working primarily in a documentary style to unobtrusively record events with story-telling images. I've worked with Helen Weinstein on a number of varied and interesting projects for Historyworks, and also for her related University projects and events. These projects have included documenting the student intern project presentations in York Minster, creating images for the Historyworks' Jewish History Trail leaflet and app for the partnership project with York Museums Trust. Next, I'll be working again with Helen and Historyworks to be capturing some environmental portraits and reportage images to accompany a sound poem for the Minster Voices installation.

Beyond my work with Historyworks, I am frequently commissioned by other academic, corporate and private clients to provide documentary coverage of events and to create other PR and promotional images. I also enjoy my work as a documentary wedding photographer providing an unobtrusive record of couples wedding days. You can see my work on my website www.ianmartindale.co.uk

In addition to my photographic abilities, I have a broad skill-set including video camera operating, assisting, editing and the occasional spot of programming. For training workshops organized by Historyworks I lead workshops to share top tips for lighting and photography, camera operating and editing. I also provide consultations on a one-to-one basis for individuals looking to further their photography, camera, and editing skills.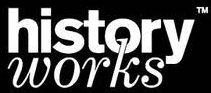 » Work with us