About our training
Historyworks provides a wide-ranging set of training workshops which we deliver in Universities and Heritage institutions in group or one-on-one situations. We listen to clients and offer what is useful and useable for your needs running workshops for staff and researchers in museums, archives, universities.
Media production training
Our team works extensively in the media sector and has a broad set of disciplines to match that experience. We can train you to make podcasts or app content; short films or radio programmes including learning how to script. We can also help set up your website and teach you how to update it. We teach lighting and camera work so you can take great stills to illustrate your work. We show you how to record and edit films for your exhibitiion content, your presentations and your websites. Part of our training service can include guidance on buying camera, audio, and editing equipment.
Communicating and public engagement
We specialize in helping researchers learn how best to communicate their research to lay audiences. Historyworks has run workshops at Cambridge, York, Oxford, Newcastle, Warwick, London, to coach researchers in media skills and to communicate well with partners outside the ivory tower. We specialise in multi-media products for academic research projects, enabling school children and their teachers to enjoy learning materials in museums and archives and allowing the public to engage with an exhibition produced in partnership between researchers and cultural institutions.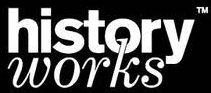 » Work with us