Stuart Animation Film

THE STUARTS IN 7 MINUTES - NARRATED BY THE COMEDIAN DAVID MITCHELL

Historyworks has been commissioned to make 26 films for an AHRC funded project translating academic research about the Stuart century, to showcase original sources for teachers and sixth-formes to encourage them to study this period for A' Level English and History. We were asked to also make an entertaining film to give youngsters an overview of this complicated century. Our animation film is called "The Stuarts in 7 Minutes" and is intentionally Monty-Python- style and every frame is a careful mirroring of printed sources. HIstoryworks persuaded the comedian, David Mitchell, to agree to be the narrator. David lived up to his full name of David James Stuart Mitchell! Historyworks is very keen to produce more animations, so do please be in touch if you wish to commission us:

BBC 4 Reenactment Taster

Taster for BBC 4 documentary on Reenactment, featuring the renowned filmmakers, Michael Winterbottom and Andrew Eaton, interviewed about their interest in narrative and the making of their Reenactment films starting with Cock & Bull, 24 Hour Party People, The Road to Guantanamo, and In This World.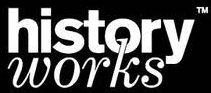 » Work with us