RADIO: Rowena Whitehead on BBC Radio Cambridgeshire
Following on from Helen Weinstein's visit to BBC Radio Cambridgeshire on Saturday 10th May to discuss the launch of Cycle of Songs, Rowena Whitehead, Choral Leader for Cycle of Songs, returned to the BBC Radio Cambridgeshire studios to appear on Sue Dougan's afternoon programme on Tuesday 20th May 2014.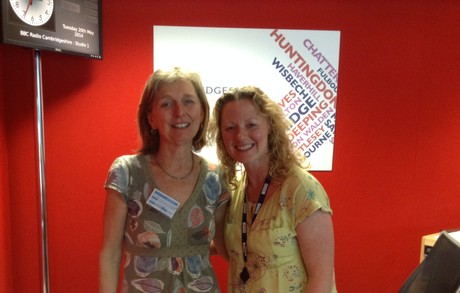 To hear a section of Rowena talking with Sue Dougan you can listen below:
Rowena spoke about the various aspects of the project, covering the history behind the commissioned songs, the range of artists involved, the mobile phone app, the Cycle of Songs Choir and the ways in which the project facilitates a wonderful opportunity for communities to come together to celebrate the identity of Cambridge and its citizens.
"there are songs of all sorts of different styles…and what is really interesting about it is that we learn a bit more about the place we live in, our own cultural heritage and the stories behind it."
Sue Dougan, suggesting that the Cycle of Songs project will itself become part of Cambridge's history, moved the discussion on to the legacy of the project. People will be able to go on listening to songs after the Tour de France has left, Rowena said, as the app will enable people to listen to the recorded pieces as they enter the streets and locations where the stories that inspired them are set. You can also use the app remotely so you don't have to walk the route to hear the songs. For more information about the app you can go here.
Rowena then reminded listeners that the Cycle of Songs Choir that will be performing at various venues across Cambridge this summer is free and open to people of all ages and abilities:
"Anybody can do it! If they go onto the cycleofsongs.com website everybody is welcome: people who love to sing; people who aren't very confident about their voices but think they'd like to give it a try. There's no solos. It's singing as part of a big community group, the songs are also on the website so people can listen to them and learn the parts, and everything is learnt by ear so you don't have to read music either. The idea is to have a darn big community sing".
If you would like to find out more about the project you can visit our events page at http://www.cycleofsongs.com/events/
You can also sign-up to become part of the Cycle of Songs Choir via http://www.cycleofsongs.com/sign_up/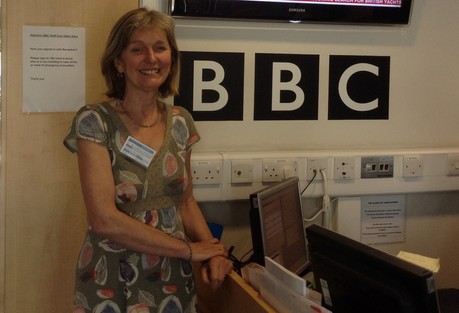 For details of the full programme you can find them via the BBC iPlayer
http://www.bbc.co.uk/programmes/p01ymtt5