Blog: Marcus Romer on Cambridge 105fm, Saturday 5th July 2014
On Saturday 5th July 2014 Marcus Romer, Artistic Director of Pilot Theatre and the Cycle of Songs project, returned to the Cambridge 105fm studios to promote the day's events and the project as a whole.
You can listen to the radio interview below:
Marcus began the interview by discussing the project, its various components, and the ways in which it had engaged with historical research, the creative interpretation of that research by artists and composers, community choirs and events, and its digital legacy as a free app.
"All of these choirs and all of these unsung voices and stories will be there forever as part of the story of Cambridge."
He described the project's output as "an extraordinary bespoke album for the city" before moving on to discuss how arts project like the Cycle of Songs are able to bring together and create networks of artists and communities to create something new and meaningful. We are proud, he said, that people have come together to bring to life stories about the city they live in.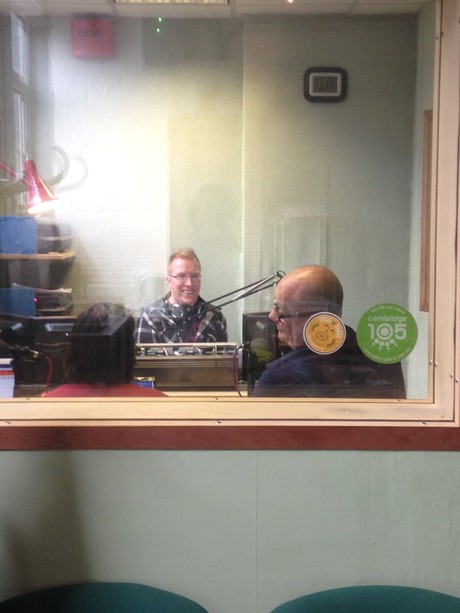 Then the 'Freedom' track, written and composed by Inja, with choral arrangement by Rowena Whitehead, was played on air and Marcus provided some context about the piece, describing how the Producer, Helen Weinstein has commissioned all the pieces by matchmaking the research with the artists, then the pieces with the choirs in Cambridge. Marcus spoke about the essential component of the project, being the historical research undertaken by Historyworks, and for the piece "Freedom", what has inspired Inja to write the song is the story of Equiano and Clarkson being activists, campaigning against the slave trade in the late 1700s in Cambridge, a unique and important story which has resulted in the new track, a performance by Inja backed by a recording with Sing! Community Choir and Revelation Rock-Gospel Choir, which took place at Romsey Mill Community Centre, recorded and edited by Historyworks.
Marcus concluded the interview with an invite to listeners to come to Parker's Piece between 3pm and 6pm to watch or get involved with the Cycle of Songs event taking place at the Big Weekend that same day, starting with the Cycle of Songs Choir singing in the Marquee from 3pm onwards, to watching The Dowsing Sound Collective representing Cycle of Songs on the Main Stage from 4pm, and testing out the app and watching the film and photograph capture of the project on screens in the Marquee for the duration of the afternoon.
To view photos taken at the recording of Freedom you can click here.
To view photos of the visit by Inja to St Johns College library with Ryan Cronin, the Press, Publicity and Communities Officer at St John's College, to see original Abolitionist documents, you can click here.