Blog: Cycle of Songs at the Fitzwilliam Museum for Museums at Night
On Friday 16th May 2014 the Cycle of Songs project took part in a wonderful event at the Fitzwilliam Museum, Cambridge.
Cycle of Songs was invited as part of the Fitzwilliam Museum's Museums at Night programme, an initiative that aims to encourage visitors into museums, galleries and heritage sites by allowing the public after-hours access and by arranging special evening events.
The Cycle of Songs Team led by Helen Weinstein, Marcus Romer, and Rowena Whitehead arranged a wonderful programme of singers and musicians to perform from 5:30pm to 8:30pm in Gallery 3.
The evening started with the energetic and enthusiastic singing, dancing, and ukulele playing Spinney Singers. The Spinney Singers are a primary choir made up of children from the Spinney School, Cherry Hinton, and are led by Arlette Overman with James Ingram on piano.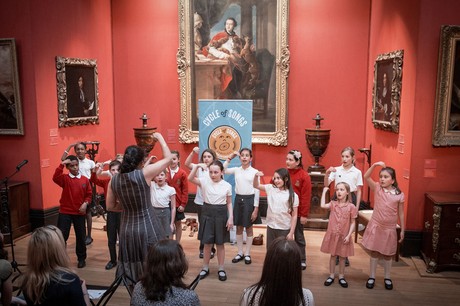 [Image courtesy of Martin Bond]
The next performer was Hannah Brock. Hannah is an award-winning musician who plays an ancient Chinese instrument called a Gu zheng. At the age of 14 she is already an impressive and accomplished musician and she provided the people present with a fascinating introduction to her instrument before playing her set. Hannah's participation in Cycle of Songs extends to a commission to play the Gu zheng on a piece entitled 'To Seek a Dream' by Alex Cook, composer and musician. This piece will be recorded and available to listen to on our mobile phone app. The app will be available for free and will be downloadable on iOS and Android at the beginning of July. You can find out more about that here.
Alex was also our next performer in the programme. After an introduction he sat down to play a number of pieces at the piano, one of which was inspired by the true story of Anka Bergman, a Holocaust survivor who gave birth to her daughter, Eva, in Mauthausen Concentration Camp. You can listen to this piece and others on Alex's Bandcamp page.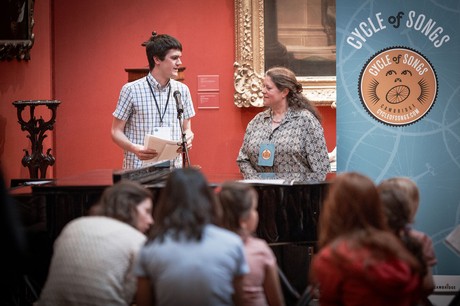 [Image courtesy of Martin Bond]
After a brief interval Chela the Cambridge Georgian Choir rejoined Cycle of Songs for a second time, following on from their involvement in the launch at Great St Mary's Church on Sunday 11th May, to entertain a full room of spectators with their remarkable traditional Georgian singing.
The room was then treated to a performance by ReSound, led by Cycle of Songs Choral Leader Rowena Whitehead. It was wonderful to have ReSound fill the room with energy and an inclusive spirit as the audience were invited to join in on their rendition of Moon River.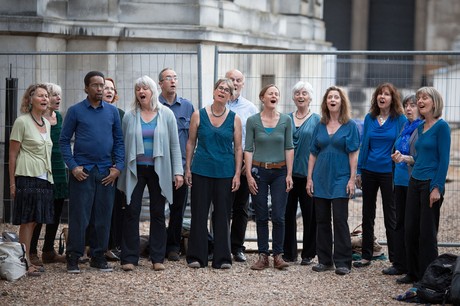 [Image courtesy of Martin Bond]
The evening was brought to a close by the wonderful Searle Street Band who played a mix of jazz numbers and original compositions. With the remarkable acoustics in Gallery 3 the band and vocalist sounded fantastic, and audience members soon took to posting photos and videos of them on Twitter. You can hear some of their music by visiting their Soundcloud page.
It was a great evening with approximately 300 members of the public spending time in Gallery 3, all experiencing the unique collection of performers that the Cycle of Songs project had brought together. There was lots of positive feedback from performers, museum staff, and members of the public and we are very thankful to all the musicians and singers that helped make our second public event such a success.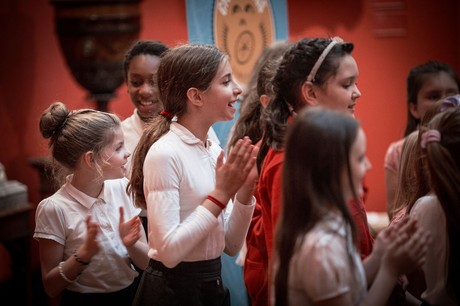 [Image courtesy of Martin Bond]
If you would like to find out more about the choirs and musicians that participated you can visit our Choirs page.
You can also find out about other Cycle of Songs events and the ways you can be involved by going to our events and sign-up pages.