THE STORY OF THE HEADLY FOUNDRY & ENGINEERING WORKS
THE STORY OF THE HEADLY FOUNDRY & ENGINEERING WORKS
Please come along to an llustrated talk by Professor Helen Weinstein,
as the community historian for the Ironworks in Cambridge
Date: Monday 14th November
Time: 7.30pm
Location: Pye Building, Cambridge Museum of Technology
Duration: 45/50 mins with 10/15 mins Q&A
Hosted by: Cambridge Industrial Archaeology Society & Cambridge Museum of Technology
Summary: The Eagle Foundry was located closeby the Eagle pub on Cambridge Market Place from the 1830s moving to Cheddars Lane in the 1890s with 40 years alongside the Railway line at Sturton Town's IronWorks from 1847 to 1887 in between. In this talk Professor Helen Weinstein charts the social and industrial history of this important business, when the Headly Foundry and Engine Works alongside their Coprolite Mining and Milling Company were fabricating bridges and railings, manufacturing drainage and stationary engines, wrought-iron boilers and steam pumps, a locomotive steam train and railway fixings, coprolite mining and milling machinery, agricultural troughs and water irrigation systems, gas-works and brewery fittings, garden ornaments and weather vanes and more.
Helen Weinstein is the community historian for the Sturton Town local history project telling the stories in and around the new development called 'Ironworks', so usefully this talk will give insights about the skilled Victorian workers who lived in the streets nearby, like the foundry managers and turners and moulders. Helen will also show how the Headly foundry and coprolite mill contributed to the local business economy and will share her research into the minute books from the Cambridge Borough Committees, for example, the tenders for Borough improvements for drainage and bridges and railings on common land and parks such as Coe Fen and St Matthew's Piece. This will be a richly illustrated talk with photos taken by Helen of objects and documents in archives that Helen has recently researched, conducted not only at the Cambridge Museum of Technology, but also in the Cambridgeshire Archives at Ely and the Cambridgeshire Collection at Cambridge Library, and in some watery outdoor environments!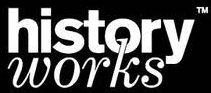 » Work with us