'Twilight at the Museum: Sounds of Steam' at Cambridge Museum of Technology CB5 8LD
CAMBRIDGE HISTORY FESTIVAL 2016
Wednesday 17th February 2016
THE SOUNDS OF STEAM at Cambridge Museum of Technology will be a unique tour of the venue for TWILIGHT AT THE MUSEUMS from 4.30pm to 8.30pm (& Creative Activities 1pm to 4.30pm) as part of the Cambridge History Festival.
Venue Info: www.museumoftechnology.com
Ticket Info: Free. Drop-in event. All Welcome!
Explore the atmospheric spaces by torchlight and experience the museum spaces with sound tours produced by Historyworks, projected films made by Cambridge artists and co-created with children from local schools, music performances including new songs about the history of the pumping station by CBBC's Horrible Histories songwriters. Be inspired to try out some hands-on activities. Pop-up foodPark by the Cheddars Lane entrance. Childrens' portions and prices. Bring your torch, wrap up warmly and wear sensible shoes!
To find out more about the History Festival and find more events in the programme go to: http://www.folkmuseum.org.uk/page.php?id=530
ART & HISTORICAL ACTIVITIES 1pm to 4.30pm FOR 'SOUNDS OF STEAM' FUNDAY AT CMT
Come along to the launch of a new history tour based around the Victorian pumping station. Do please bring your smartphone to follow the 'stinking history treasure' trail. Join in family-friendly activities suitable for children and adults including 'guerilla' art activities inspired by the new history trail, body percussion to re-enact sounds found in the museum, singing classes to learn the newly commissioned Horrible Histories style songs about the pumping station, workshops to write your own jokes or poo rhymes, recording sessions to collect and amplify museum sounds! This event is devised and delivered by Historyworks in partnership with Cambridge Museum of Technology. For further information please go to: www.creatingmycambridge.com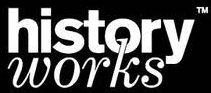 » Work with us