YORK HOLOCAUST MEMORIAL DAY
Many thanks to everyone who joined in the commemorations for Holocaust Memorial Day. We were amazed at the vast crowds who came along on the history trails, almost two hundred, photographed here within Clifford's Tower, listening to Helen Weinstein talk about the 1190 massacre of Jews at this site.
There were some really useful discussions about traumatic pasts and how best we may navigate commemorations in general, and Holocaust Memorial Day in particular. It was also great to have a speech from colleague, Lars Waldorf, about Human Rights, and thereby to reflect on genocides in Guatemala, Rwanda, and Darfur.
Also, thanks to Michael for singing a very moving hebrew prayer which echoed hauntingly through the ruin, and was an apt end to a freezing cold outdoor event which allowed serious conversations with the public about traumatic pasts.
The Historyworks team has created an app and podcast version of the York Jewish History Trail, available here: historyworks.tv/projects/apps/york_jewish_history_trail/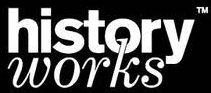 » Work with us